Olo!~ its been sooo long!,well just to give you a little update im now 6 months pregnant and im having the WORST breakout of my life.....Pregnancy Acne is a lot more complicated than my usual bout with hormonal acne...well its still hormonal however;since i am pregnant i don't have a lot of choices to help me manage the breakouts,the products that i can use are very limited,and the "products" that im allowed to use doesn't even do much...I have Papules and Pustules and Cyst and Blackheads and Whiteheads (that's a lot of And's) on my cheeks....Its definitely a war zone..
So anyway i bought some stuff to help me calm my skin down...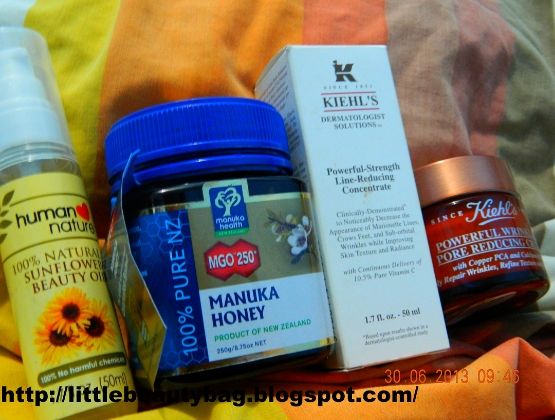 1.HUMAN HEART NATURE SUNFLOWER BEAUTY OIL(Php. 130-140.00)
according to HHN site*
Our premium and best-selling Sunflower Beauty Oil is 100% Natural and packed with vitamins A, D & E that help moisturize and nourish your skin to give it that healthy glow -- without any harmful chemicals. It's so effective and so versatile, the uses are endless! What kind of miracles, you ask? Well for starters it…
1. Helps soften and lighten underarms
2. Helps lighten dark spots & pimple marks
3. Under eye moisturizer
4. Helps prevent & diminish the appearance of stretch marks
5. Helps lighten dark under eye circles
6. Softens feet soles, knees & elbows
7. Removes stubborn makeup
8. Overall body moisturizer
9. Helps diminish fine lines around the eyes
10. Helps soften cuticles and dry skin
11. Makes skin glow and helps keep it youthful
12. Helps relax tired, puffy eyes
13. Helps relieve itch & redness caused by insect bites
14. Nourishes & conditions eyelashes
15. Helps lighten dark lips
16. Adds shine to dull hair
17. Helps ease dry & itchy scalp
18. Helps improve skin condition after sunburn
19. Smoothens dry, rough skin from shaving
20. Helps calm skin & ease rashes
21. Helps relieve symptoms of skin infections
22. Helps hydrate dry patches on face
23. Helps lighten lesions and scars
-I ran out of my emu oil and i cant seem to find any barenaturals resellers,nor any store who sells them,i saw one at Healthy Options but i cant seem to shell out 900 php for a small bottle of oil,ive been hearing a lot of raves about sunflower oil,im using this as a spot treatment,as of the moment,i also sometimes use this as my makeup remover..
2.MANUKA HEALTH MANUKA HONEY(Php. 1500.00)
manuka health ph
Manuka health site*
MGO™250+ Manuka Honey contains at least 250mg of Methylglyoxal for every kg. The NPA/UMF equivalent of MGO™250+Manuka Honey is 15+ and is both a maintenance honey & curative honey for sore throats, coughs, colds, & flu. This product can also be applied directly on small cuts & wounds. MGO™ Manuka Honey is labelled based on the minimum Methylglyoxal content (mg/kg) it contains. As Methylglyoxal is the active compound directly responsible for the antibacterial activity of Manuka honey , the higher the Methylglyoxal content of MGO™ Manuka Honey, the stronger the antibacterial activity
-Ive been contemplating whether to splurge on this or just grab my regular raw honey,since this one does not come cheap for a jar of honey,but i finally convinced myself that id rather try it now that im pregnant to see how well this "medicinal Honey" really is,than to not try it at all.
3.KIEHL'S POWERFUL LINE REDUCING CONCENTRATE(Php. 3885.00)
according to kiehl's site
A line eraser with 10.5% Vitamin C.
Clinically-demonstrated to improve overall skin texture, tone and radiance while reducing the appearance of lines and wrinkles
Provides anti-oxidant protection and exfoliates skin to reveal healthier-looking skin
A customer favorite
4.KIEHL'S POWERFUL WRINKLE PORE REDUCING CREAM(Php. 2910.00)
A skin fortifying anti-wrinkle cream.
Formulated with a powerful combination of micronutrients, Copper PCA and Calcium PCA
Significantly reduces wrinkles, smoothes skin texture and minimizes pores
Clinically shown to improve elasticity by 32%
-ive asked
Kiehl's Manila's
KCR if its okay to use them while im pregnant...they told me that their products are safe for pregnancy!!..but still just to be on the safe side ill use them after i deliver the baby..
KINDLY FOLLOW ME ON
Instagram: @littlebeautybag