Alright so ive been hearing a lot of raves about Yabu,a few bloggers had been invited or was given the chance to eat at Yabu a few months back and i saw their posts about it,and of course wished that i was one of them (LOL) yeah i like food that much!.. unfortunately it was out of our way,not until SM Mall of Asia's Yabu opened its doors last November if im not mistaken.
We decided to try Yabu last week since,i want me some premium katsu,and ive been craving for some salmon ! =D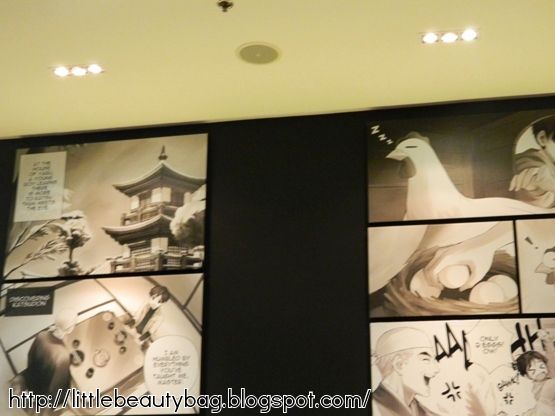 Manga on the Wall..Really?how cute is that. i know for a fact that my husband likes to read manga and so as expected he knows the story more than i.
sakes maybe?
so we were seated,after a few minutes, one of their staff asked us if were already familiar with Yabus Tradition,i just dont know if i heard him right.. hehe.anyways we told him it was our first,so he explained everything on our table,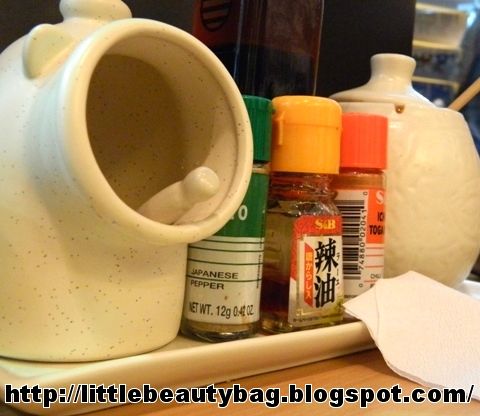 that there (farthest left side)is some special salt(lol) im bad at picking up things,pepper some chili and on the farthest right is the Katsu sauce that you'll need to mix with the sesame seed.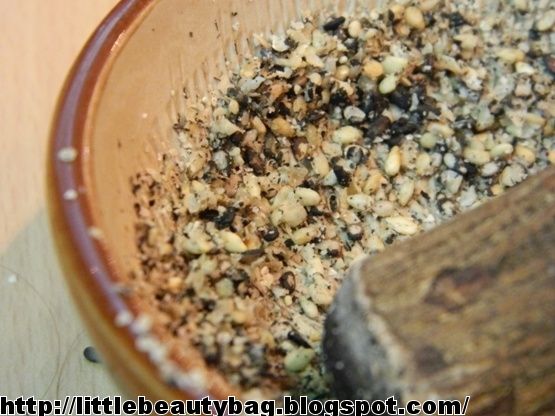 Grind your Sesame Seeds.Let all your frustrations out and Grind,haha.
Pour the Katsu Sauce,two scoops is fine. then mix =D
when we got the Food,(took less than 15 mins) we were like...okay how to eat this... Mr.R made a side comment saying "hirap pag nakakabobo ang food" lol..cause he was looking for something to push to dispense the dressing,he tried tapping it but nothing came out...so i had to ask someone from Yabu...he said "they just refilled the dressing" so,it just needs some hard tapping..=D we just smiled,and said "aaaah,yun pala" =D
SEAFOOD PLATTER SET 2
:
costs Php 445.00 or is it 545.00:
Salmon,Tiger Prawn,Crab and Oyster with( Unlimited Rice,Cabbage ,Miso soup) 2 slices of watermelon and pineaple,lastly japanese pickles.
salmon tastes great,i love how they cooked mine(may Mine Talaga),well i guess this is how they really cook their salmon,i hate overcooked salmons i want mine more on the raw side. the Oyster,its sweet and Juicy,Mr.R's not a fan of my seafood platter he's more of a Land Dweller Eater..i like my SEAFOOD so we're kinda like Yin and Yang on our food choices.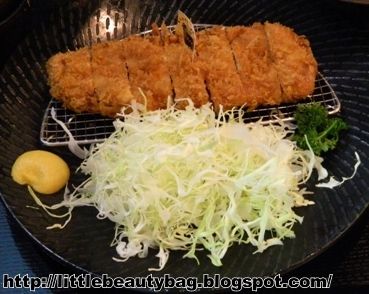 KUROBUTA SET 120g
costs php 575
this meal also includes unlimited rice,miso soup and cabbage,aside from those theres also a few small slices of fruits same as what i have on my Sea food Platter.
The fact that he didnt touch my Seafood doesnt mean i wont touch his KUROBUTA..
My lil r,would loveee this! sadly he was not with us at that time...So i will definitely be going back with my little boy since he really love his Katsu..he is a picky eater but eats Katsu on a heartbeat.
The Kurobuta is very different,its Crunchy on the outside(according to Mr.R "Yung crunchyness niya super sarap"),unlike other Katsu that ive tried which only looks crunchy,and on the inside its Soft,very tasty,cooked really well,its Juicy,i didnt taste any dryness(and according to Mr.R "it has the right amount of Fat")
Accdng to Yabu:
Katsu made more exquisite with Yabu's Kurobuta premium tonkatsu. Our kurobuta is imported straight from Japan; tender, juicy and flavorful pork in a crisp golden panko crust. It is indeed, the High King of katsu.
Trivia!!
Kurobuta, also known as the black Berkshire pig, is the world's FINEST pork. It is also called the "kobe beef of pork" due to its rich marbling, softness and flavor.
I like their Miso Soup,im not a fan of Miso Soups,but i enjoyed Yabu's,and their Cabbage?Well lets just say we gave in,i finished my 2nd serving of cabbage.And thats quite filling.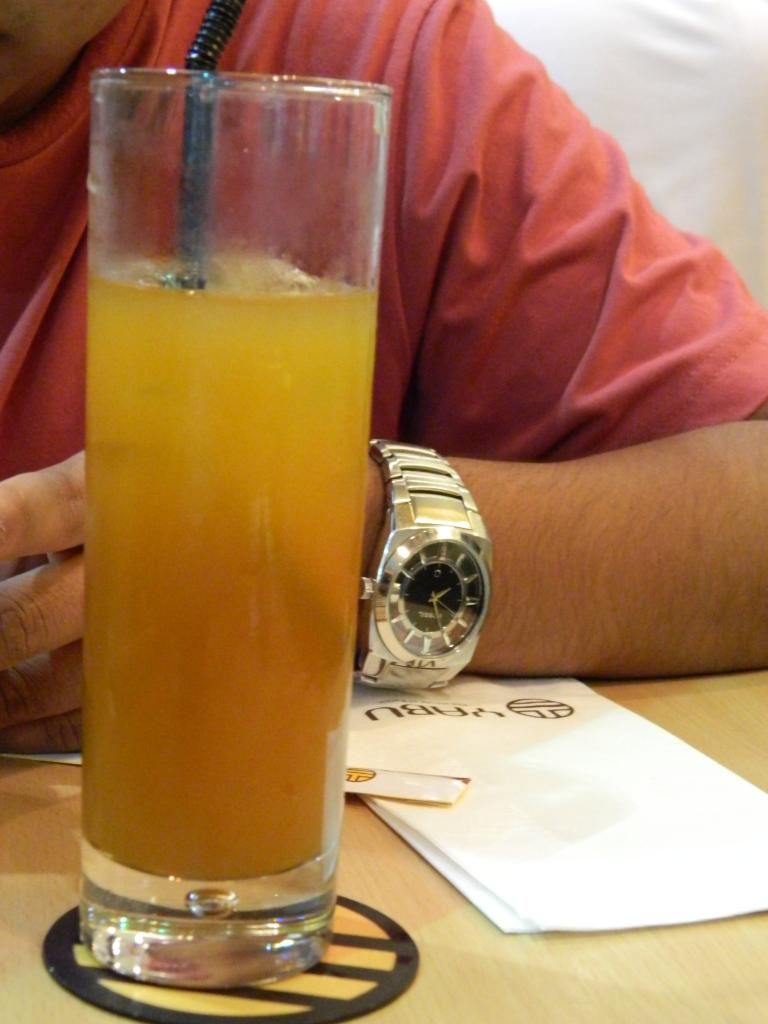 Bottomless House Iced Tea
Php 95.00
i forgot the exact amount but more or less our final bill is at about Php 1200-1300,they have 5% service charge as well.
Check out Yabu on:
Facebook
: https://www.facebook.com/yabuhouseofkatsu
Mall of Asia
: 2/F SM Mall of Asia, Main Mall Atrium, South Arcade, Pacific DrManila Bay Reclamation Area, Pasay
KINDLY FOLLOW ME ON
Twitter
:
https://twitter.com/Littlebeautybag
Instagram: @littlebeautybag