its been how long since i posted my mario badescu purchase,i guess a month or so,and ive been using it almost everyday (yeah it sucks,that means i have nasty pimples on my face for that long) ,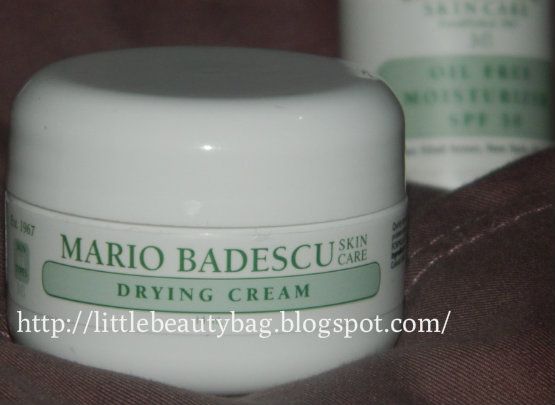 According to mariobadescu.com
BENEFITS:
Acne cream that conceals! Drying Cream is an effective treatment to dry up small under the surface bumps and pimples. Just a few dabs smoothed on the erupted areas prevent pimples from getting larger and spreading out of control. Aloe rich cream conceals and heals erupted pimples.
HOW TO USE:
Apply sparingly on pimples by dabbing with fingertip until cream blends into the skin. Best when applied after moisturizer, before make-up.
INGREDIENTS
: Deionized Water, Zinc Oxide,Aloe, Beeswax,Cetyl Alcohol,Lemon Extract,Colloidal Sulfur,Ervol,Octyl Palmitate,Ichthammol,Polysorbate 80, Titanium Dioxide,Polyglycerylmethacrylate (and) Propylene Glycol
and its good for ALL SKINTYPES..


sorry for the icky shot.=D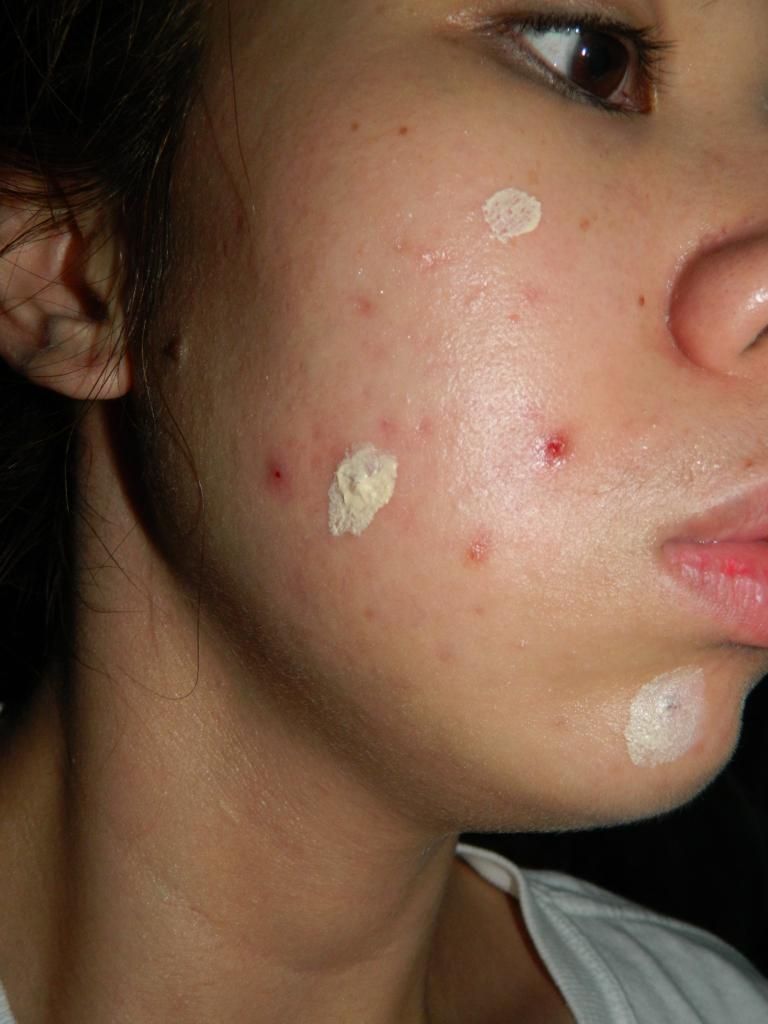 now before i go on with the review,let me tell you a little something about my skin:
ive been breaking out for almost half a year or so,sudden break out at my age,my bet is its because of my Hormones,ADULT ACNE is such a nuisance,its very persistent,so scarring is something to look forward to,last year i have a very tough skin,now i have SENSITIVE still OILY skin,the break outs that i get is more cystic ,i have whiteheads(which sucks because they tend to flare up),papules(which then turns to a cyst),I have Fair/Medium Skintone NC 20, so the slightest discoloration is already a problem.
How i use it:
i only use it at night,i tried using it as a concealer however its too light for my skin plus the consistency is a little weird for that purpose, so what i do is i get a cotton tip/Qtip dip it on the cap and spot treat my acne.
Does it Work?
well on the first week,i was amazed on how well it works on my skin(whiteheads and blackheads),after a day i can see them surfacing without getting inflamed,however after the 3 week mark...it doesnt work as great as it used to,it only made the surrounding area peel but it didnt do anything on my bumps,before that i stopped using it for a week just to let my skin rest,and after that it didnt deliver the same result on my skin,
I still use this on my pustules,as long as i can see a tiny head i apply it,it minimizes the time of recovery,makes them surface a lot faster, i find that they work best if the pimple has a head, black heads,to make it short clogged pores,as the product claims to be effective on small under the surface Bumps,but on my cystic ones,those deep seated pimples it doesn't work that well...
Texture:
i feel something gritty,but their really small and the product still has a Creamy consistency,but nothing like a concealer though
Smell
-
SULFUR! doesnt smell good,my husband hates it,i dont like it,but my nose got used to the smell.
size-
Php 795.00 for 14ml
Packaging-
white plastic tub/pot,yes you have to dip something in...i use q tips
Availability-
Got this at Rustans essences.
Great for:
it says Good for all skintypes,but if you're on a drier side try not to apply this everyday,as ive mentioned it dries up the top layer of my pimples and the surrounding area as well;
those who have whiteheads black heads(congested pores)
KINDLY FOLLOW ME ON
Twitter
:
https://twitter.com/Littlebeautybag
Instagram: @littlebeautybag