i shouldve posted this one a few days back but since i cant find a good way to put my photos together i guess im gonna have to do it the old way..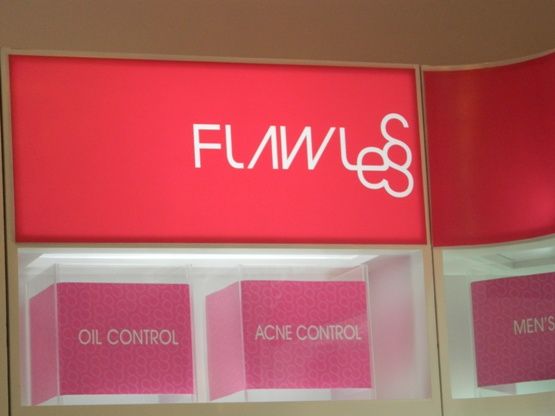 when i first went inside flawless i was like."ooh so cute.Pinks" ,they have a lot of clients/patients waiting to get pampered and beautified including me...as ive mentioned on my previous post i was supposed to get their advance acne control facial but it was already their cut off for facials that night so instead i opted for their KI aka cortisone shots...then i came back the next morning for my facial but just decided to avail their basic acne control facial.
as i remembered:(not in chronological order)
they will massage your face with a foaming facial soap,
they'll place their hands on top of your face for you to smell the aromatic oil
face steaming,then the mittens a little massage on the hands and shoulders
a mask then laser.
my face after the treatment:
right after the facial treatment..my face is full of red spots,i just used my iphones camera so its a bit blurry but you can definitely see the bumps and stuff.
right side
2nd day
-the redness has mellowed down but i can feel some spots forming into deep whiteheads..uh oh.
3rd day
- i can still feel the sting whenever i wash my face,and some red spots are still on sight.
right side.
4th day
-the clusters on top of my cheekbones started to reddened and it now has 2 pimples.
left sides looking good though.
so final conclusion:
the process
-it was soo relaxing..face massage,the warm mittens is good but not that relaxing for me,but i did like the 3-5 minutes of massage on the hands and shoulders,
The PRICKING-
it was painful.i have high pain tolerance mind you,goodnesss!! ive gone through labor when i gave birth and i didnt shed a tear! but i cant seem to figure it out why this made me cry,good thing that my eyes were covered with gauzes,hehe but kidding aside,yes it was indeed Painful compared to my previous ones,however as long as i get a good result in the end,i wouldnt mind a few minutes of pain..maybe.... lol.
KINDLY FOLLOW ME ON
Twitter
:
https://twitter.com/Littlebeautybag
Instagram: @ittlebeautybag