so...skin..i did expect it to be different now..after i weaned myself out of the medications and other stuff that my dermatologist and OB gave me,i did expect that after the 3months mark my skin will stray,and it did,although not that much since i didnt go cold turkey on the stuff,but still its disappointing...So ive searched and searched and found this Skincare line called Mario Badescu,that's only available at Rustans( correct me if im wrong) in the Philippines..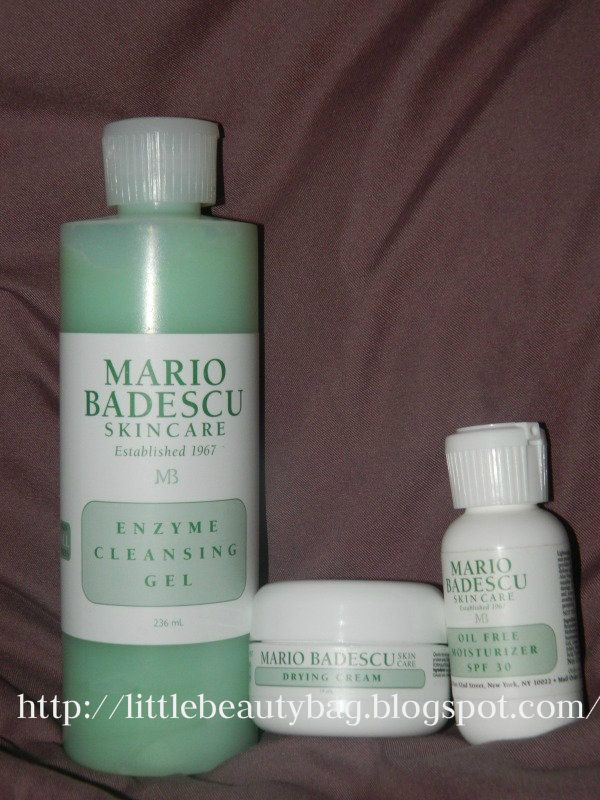 They do carry a lot of acne treatments,the packaging looks okay,its simple,just how one should be,the good thing about them is that you can go to their website
http://www.mariobadescu.com/skin-care
and click consulting and they will let you know the products best suited for you skintype,just like a free online analysis,if youre from US they'll give you free samples of the products that they recommended for you,i think that's how it goes..=D
And if in any case you forgot,that's okay as well cause on each product they tell you which skin type it is best for,so for now i got the
Enzyme Cleansing Gel at php.845 or is it php 875 for a 236 ml bottle
BENEFITS:
Our Best Selling Daily Cleanser. This non-foaming, gel cleanser thoroughly removes the day's make-up, dirt and oil without drying the skin. Papaya and Grapefruit Extracts are exfoliating Alpha Hydroxy Acids that help prevent dulling build-up that can cause blackheads and pimples.

HOW TO USE: Twice daily, massage in a circular motion on wet skin avoiding eye area. Rinse with tepid water. Pat dry and follow with toner or astringent.

INGREDIENTS: Deionized Water (Aqua),Glycerin,Papaya (Carica Papaya Fruit) Extract,Grapefruit (Citrus Grandis Fruit) Extract,Monomide,Triethanolamine,Methylparaben
Drying Cream at php 795 for 14ml pot/tub
bENEFITS:
Acne cream that conceals! Drying Cream is an effective treatment to dry up small under the surface bumps and pimples. Just a few dabs smoothed on the erupted areas prevent pimples from getting larger and spreading out of control. Aloe rich cream conceals and heals erupted pimples.

HOW TO USE: Apply sparingly on pimples by dabbing with fingertip until cream blends into the skin. Best when applied after moisturizer, before make-up.

INGREDIENTS: Deionized Water, Zinc Oxide,Aloe, Beeswax,Cetyl Alcohol,Lemon Extract,Colloidal Sulfur,Ervol,Octyl Palmitate,Ichthammol,Polysorbate 80, Titanium Dioxide,Polyglycerylmethacrylate (and) Propylene Glycol
Oil free Moisturizer SPF 30 if i remember it correctly its php 1100 ++ for a bigger bottle than 29ml
BENEFITS:
Powerful antioxidant Green Tea supplies anti-aging protection in our newest lightweight, easily absorbed, daily moisturizer. Non-pore clogging, paraben-free formula provides UVA and UVB protection and the necessary defense against sun damage and acne scarring. Moisture locking Aloe Vera hydrates and softens skin while St. John's Wort offers soothing and reparative benefits for delicate skin. Recommended for every day use on combination, sensitive, oily or acne-prone skin. A necessary supplement to protect skin against side effects of acne prescriptions.

HOW TO USE: Apply daily on clean skin, avoiding eye area. Reapply after swimming or perspiring. May be used under make-up.

INGREDIENTS: Deionized Water (Aqua),Octocrylene,Benzophenone (Oxybenzone),Ethylhexyl Methoxycinnamate,Ethylhexyl Salicylate,Isononyl Isononanoate,Aloe Vera (Aloe Barbadensis Leaf Juice) Gel,Green Tea (Camellia Oleifera Seed) Extract,St. John's Wort (Hypericum Perforatum) Extract,Stearic Acid,Triethanolamine,Cetyl Alcohol.
will update you guys on how it goes on my OILY ACNE PRONE(mild) SENSITIVE SKIN..nice skin type huh?