i was supposed to purchase the NYX Black Label in Nude at Digital Traincase unfortunately i got the wrong one,i was watching a youtube guru who likes NYX "Nude" lipstick not one but 2 gurus liked it a lot i thought its their Matte Lipstick but then again,when i bought this one and watched the video again...both of them have the Black Label Nude LOL..(tanga lang?)
got it at 275.00 -280.00 forgot the price @
Digital Traincase
Told you that im on my nude lipstick phase..=p...i cant actually describe what a nude lipstick looks like...basta for me its almost as close to how my lip color looks like but a little lighter?....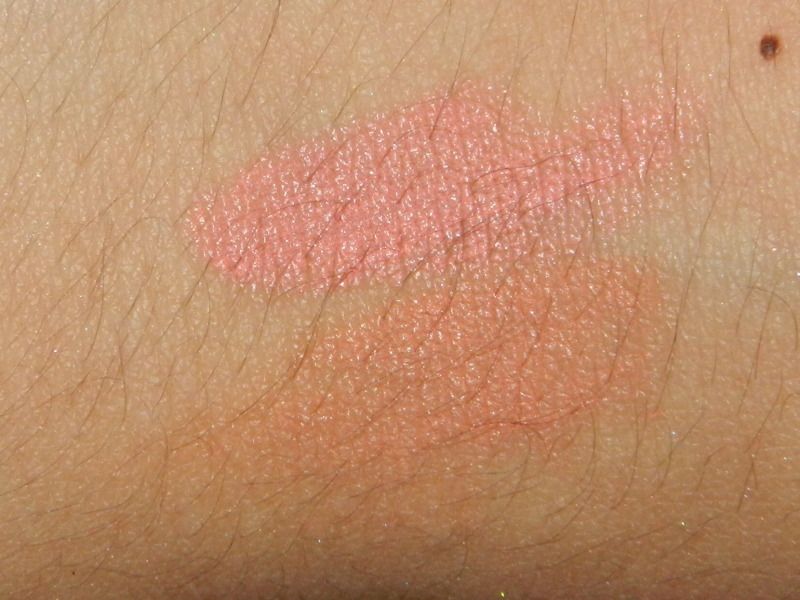 here's a swatch of NYX Matte Lipstick nude(top) and Wet n Wild Mega Last lip color in 900B(bottom)
this lipstick is more on the pink side if compared to Wet n Wild 900B,its creamy and has a semi-matte finish (imho),its not as creamy as NYX round lipstick,for me that's better because i noticed that some RLS doesnt last that long and doesnt look that good on my lips,since it too creamy for me,it sinks in to my lip lines,this one though does too but not as obvious as the RLS.
i have neutral skintone im glad that both the wet n wild and nyx matte nude doesnt wash me out.Im still looking for an Affordable "drugstore" kind of nude but for now this two will do.