you mightve noticed by now that for the past few days im posting skincare reviews,first of all these products that im reviewing works differently on every person,this is just my way of helping others who are suffering from the same problem as mine,though still;this is just an added opinion,so here i am again for another cleanser review..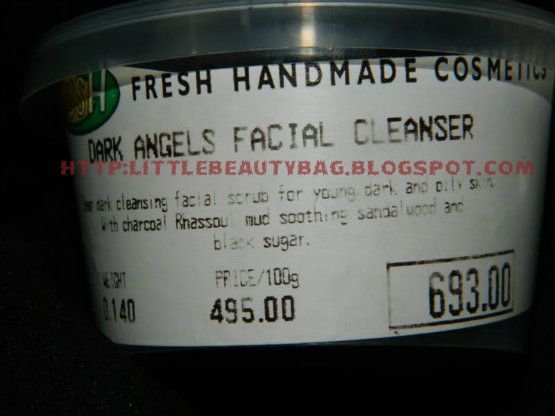 according to lushusa
Dark Angels is the nemesis of all blemishes, breakouts and blocked pores. Our soft black scrub was conceived when we combined the exfoliating power of Angels on Bare Skin and the sebum balancing abilities of Coal Face. The result? A velvety cleanser, sprinkled with black sugar and powdered charcoal to gently exfoliate and cleanse away excess oils. We add antimicrobial rhassoul mud and vitamin-rich cold pressed organic avocado oil to soften, moisturize and nourish skin, as well as sandalwood and rosewood oils to soothe
ive been using this for many months now,this is the second product that ive ever bought from Lush,i came to lush because i think that my skin needed something less harsher and more gentler cleansers,the first one that i bought from them was Fresh Farmacy,but ive run out of it and i forgot to take some shots so im reviewing this first...
when i first saw it i was like...hmmm..how will i use this cleanser..beforehand i told the Lush lady that i wanted a cleanser that lather's well,im a sudsy cleanser kind of gal,for me if its not bubbly its not going to clean that well...that was just me..hehe i know that,most times thats not the case lol..
ingredients:
Rhassoul Mud , Cold Pressed Avocado Oil (Persea gratissima) ,Glycerine , Powdered Charcoal , Black Sugar (sucrose) , Sodium Lauroyl Sarcosinate , Perfume , Linalool , Sandalwood Oil (Santalum album) , Rosewood oil (Aniba rosaeodora)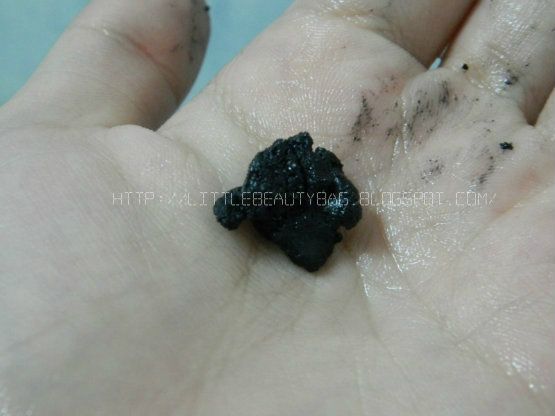 this is how it looks like up close,i only need this much for my face,if im gonna use it as a mask though i sometimes use twice as much.
so how do i use it?
i dampen my face first with water then i scoop a small amount of lush dark angels,i place it on my palm,add water depending on how pasty i want my cleanser should be,then i mix it with my finger and apply it on my face one area at a time,then i do the usual massage,lather,and i sometimes let it sit on my face as a mask,then i rinse.
looks icky right?and yes! its quite messy to use! so i always make sure to just use it while im in the shower,its not again going to foam up but it will give you that clean feeling after you rinse it,the thing that i like about this one the most is that after i rinse it off and pat my face dry,my skin feels like the oils and gunks has been remove,but it doesnt feel dry or tight,i also noticed that my skin brightens up after each wash,so if im feeling tired and feels like there's a lot of oil sitting on top of my face this is the cleanser that i will use to manage that dull,grease-y look.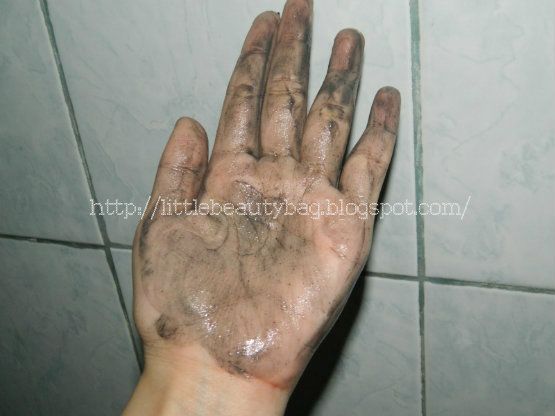 here's what's left after i massage it into my face..
Texture
:
pure black, gritty and a little bit drier than a clay.
when wet-it depends on how much water you put,but it will still have those tiny beads which is great for exfoliating.
smell
-
i guess for me,its a hint of licorice and charcoal is what i sometimes get,but there are also times that it smells like something else,like wet leaves...
packaging-
Clear plastic Tub
Size-
100grams per tub..the Sales Attendant told me that they only sell their products per 100 grams,so if you want to try it you have to buy their full size,although ive seen some lush stores which sells 50 grams tub of different cleansers(like dark angels and angels on bare skin) but you still have to buy two cause as ive mentioned the total weigh must be 100 grams or more.
Availability-
Lush Trinoma
Lush MOA
Lush The Block
Great for those:
oily skin
Blemished Skin i guess mild to moderate