Im finished with my Cat Eyes Mascara from Maybelline and i was looking for a replacement,and since i love to try new things i opted for their Magnum,though something else also caught my attention...The Loreal Voluminous Million Lashes Mascara who doesnt want to have that much lashes...well i dont want a million though ill look weird...OHHH the things they do to Market their Products...i have to admit it works! i bought one didnt i? hehe.
Ulta description:(though this is for the plain one not the waterproof version)
The Millionizer brush has a multitude of bristles to separate lashes for a fanned-out lash effect. The elastomer applicator is ultra flexible with both long and short bristles to coat each lash evenly from root to tip. The excess wiper removes excess mascara. It leaves the brush coated with just the right amount of formula to achieve maxed up volume with no overload and no clumps.
Clump-free. Smudge-proof. Ophthalmologist and allergy tested. Suitable for sensitive eyes and contact lens wearers.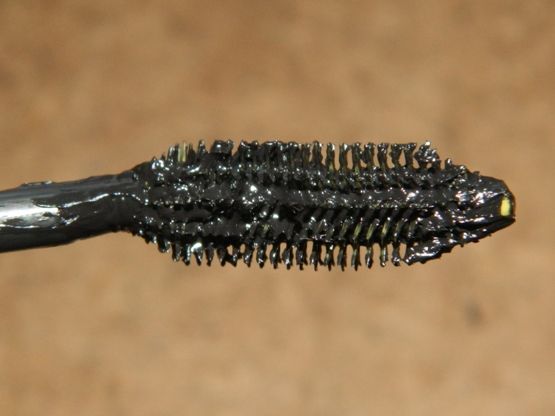 the brush is made out of plastic,the thing that i like about the brush is that its not that stiff,you can also bend the neck of the wand for easier application
the formula is much wetter? than Maybelline Magnum Mascara,but thats not a problem,it dries as fast as a normal mascara.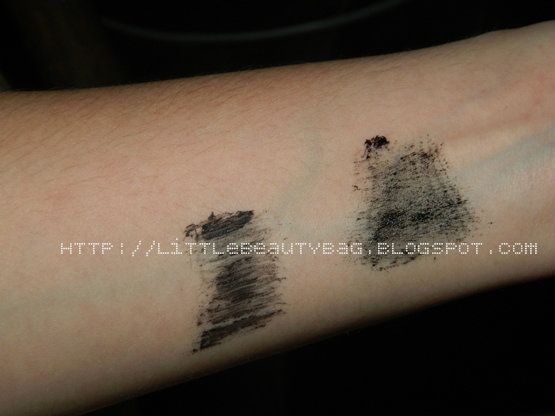 Right-is the Maybelline Magnum Volum Mascara/Left- Loreal Voluminous Million Lashes,i tried removing them with soap and water but it takes a lot of scrubbing so best thing to do is to use a makeup remover or a cleansing oil.

Bare lashes..again...
Lash with Loreal Voluminous Million mascara.i think this is two to three coats..loooovveeee....i like this more than my Cat eyes now.
I love how my lashes flares up and looks like as if i have my falsies on.
PROS:
locally available
Waterproof
holds the curls really well
Didnt give me that clumping problem,doesnt smudge either
gives volume and lengthens at the same time.
Nice Wand
Doesnt take too long to dry
Coats lashes evenly
Looks like im wearing my regular False eyelashes on.
CONS:
i dont know if its already available here in the Philippines so i guess its availability.