Hi ladies,for this week i decided that ill be showing you guys some of the skin care products that ive used for the last few months,for now im going to show you guys this Kiehl's Clearly Corrective Dark Spot Solution.
Php 2995.00
30ml dropper type bottle
Their Description:
Kiehl's Clearly Corrective™ Dark Spot Solution is a fast-acting serum that evens skin tone and diminishes dark spots to impart overall radiance and luminosity to the skin:
• In as little as 2 weeks, 55% of women clinically demonstrated a significant reduction in dark spot intensity.
• In 4 weeks, 69% of women clinically demonstrated a continued reduction in dark spots intensity and 73% of women showed a significant reduction in acne scarring. Reduction in other skin discolorations was clinically evident among 69% of women.
• In 8 weeks, 87% of women clinically demonstrated more uniform skin tone to deliver breakthrough clarity.
• With continued daily usage, Clearly Corrective helps to prevent the formation of future dark spots and other skin discolorations.
No Silicones. No Parabens. No Fragrance.
No Colorants. No Optical Diffusers.
i guess this is their active ingredients:
Activated C: Fast- acting clarifying ingredient helps diminish discolorations and prevents dark spots from forming.
Peony Extracts: Helps prevent future dark spots and discolorations.
White Birch Extract: White Birch is known for its healing properties. It enhances skin clarity and luminosity
i dont have any idea how it works but it clearly states that its a Dark Spot Solution haha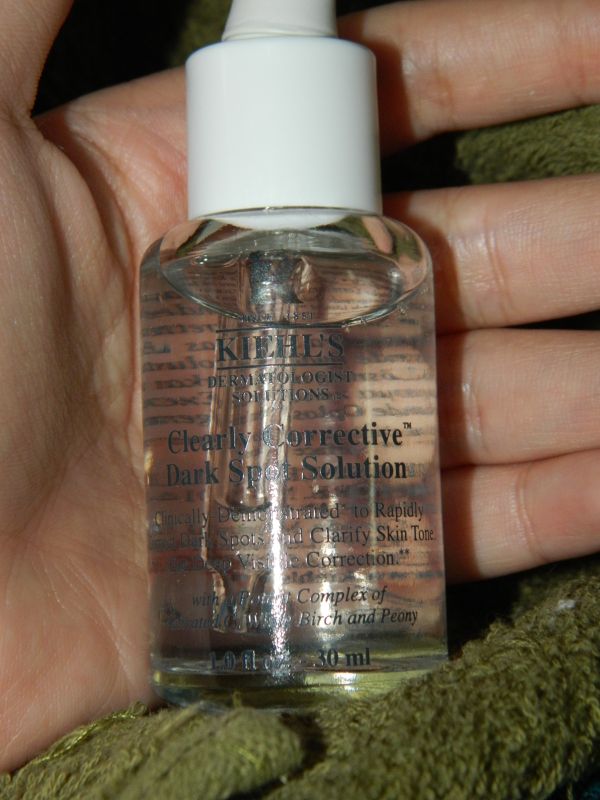 before this i was using the Avalon Organics Vitality Vit. C Serum,now dont get me wrong i like that one soo much makes my skin vibrant and alive,but after i used it all up i said to myself that i needed something more potent,to get rid of ....
its a little sticky at first but as i pat it on my face my skin easily absorbs the product,there's no trace of the product after that.
serum like consistency.
i like the dropper type packaging,saves a lot of product.
(Oh and ive been using this for almost 2 months inconsistently,to be exact i started using it last 3rd of June if im not mistaken...)
these pesky marks..
you see i have hypertrophic scars,rolling scars and also the persistent red,brown and purplish scars...
before....this is my bad side...so sad...=(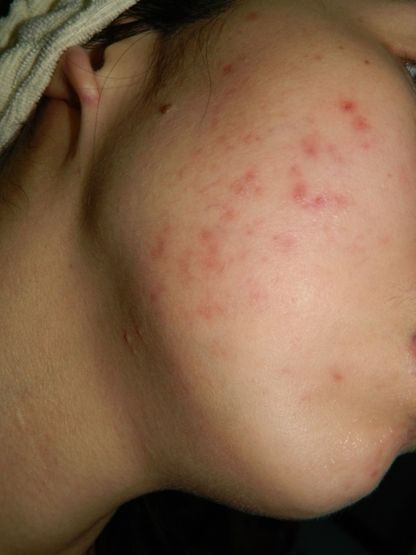 1st week-
usage: everyday morning and night 2 drops.Depending on how my skin feels and looks i sometimes add a drop or two..
didnt see any drastic changes but some of my new scars did lighten
3rd week-
usage:everyday morning and night 2 drops.
got 2...slash that i mean 3 CYSTIC PIMPLE on this week....such a bummer...
5th week-
usage:used it for like 3 days only at night,for this week also i tried using eskinol Dalacin C
the camera washes off the intensity of the red marks,but hey most of my hypertrophic scars arent noticeable anymore they're not as red as they were before.
now in conjunction with this i am also using other skincare items that i guess helped me in some way to lighten up my scars,my skin isnt as clear as it was before it exploded but atleast its not getting worst.
I stopped visiting my Dermatologist for like a few weeks now,i weaned myself off of my Medications,as im really not into that stuff to start with,but i had to.
Conclusion
:
Im happy that i bought this product,the price is quite steep for me but a little goes a long way so it will last me atleast 4-6 months,and the good thing was when i saw someone selling at a lower price i immediately got it now i have a back up yey!...Most of my scars have faded and the remaining ones arent as red as they were before,the rolling scars? they're still visible but most of them have lightened as well!
It didnt broke me out!...
Odorless!!!
Easily absorbs by my skin
I like the Packaging!
i love the fact that its not light sensitive anymore.but just to be on the safe side i still store it on a cool dark place...(cool dark place? lol sounds gloomy)
plumps up my skin texture,even if i have acne i noticed that the texture of my skin isnt as dull and uneven like it was before
*then again we have different skin types so what works for me may work differently for you.*