hi ladies im here to show you guys the products that i often reach for last month,i was supposed to include a lot of skincare but i thought that its best to put it on a skin care post separately,anyways here they are.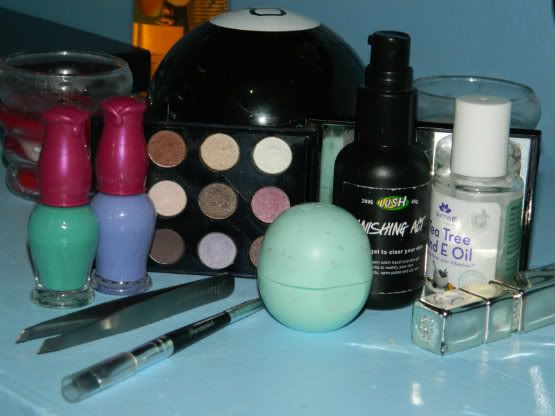 from left to right:
nail polishes from etude house-
im into pastels and colorful nails last month plus theyre affordable,if im not mistaken they cost 49 php a bottle.
estee lauder eyeshadow palette-
purples taupes browns and highlights,all shades are wearable so i interchange them well almost everyday.
EOS lipbalm
love the packaging,though this doesnt moisturize my lips as much as my other balms i love that its minty when applied.
Lush Vanishing Act-
i suppppeeeer love this product and ive consumed the whole bottle,ever since i started getting cystic acne i always reach out for this.
Derma e Tea Tree and E oil-
Spot treatment i mixed this with other oils cause i find it a bit strong for me
Guerlain Kiss Kiss Stick Gloss Berry Pink
My everyday lipstick and im also out of it!happy and sad at the same time =p
Marrionnaud Tools-
ive been meaning to buy the brow brush and spoolie duo but its always out of stock,im so happy that when i visited watsons not only they have it but it was also on sale.