hello guys so i kept on saying that ill post my skin update every now and then but i never had the guts to make one cause i know that it will take me lots and lots of time and courage to make one,if youve been visiting my blog since 2010 or beyond you'll see that i dont have that much of a problem with my skin,up until i guess dec 2011
i started to have this tiny bumps all over the side of my cheeks down to my jawline and chin...both sides,it never bothered me since im still on the same skin care regimen.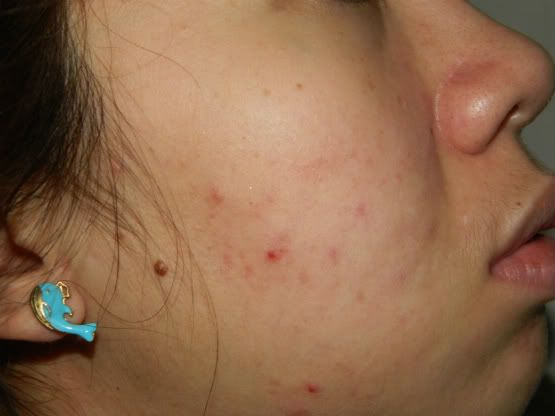 and when i sometimes scratch or prick that almost out of the pore blackhead,it gets inflamed i guess thats because they are so close to each other almost like their on top of each.(pardon that stain on the side of my lips i just ate breakfast haha)
then from there i started noticing more and more skin colored bumps appeared on the same area
mostly sides of my cheeks.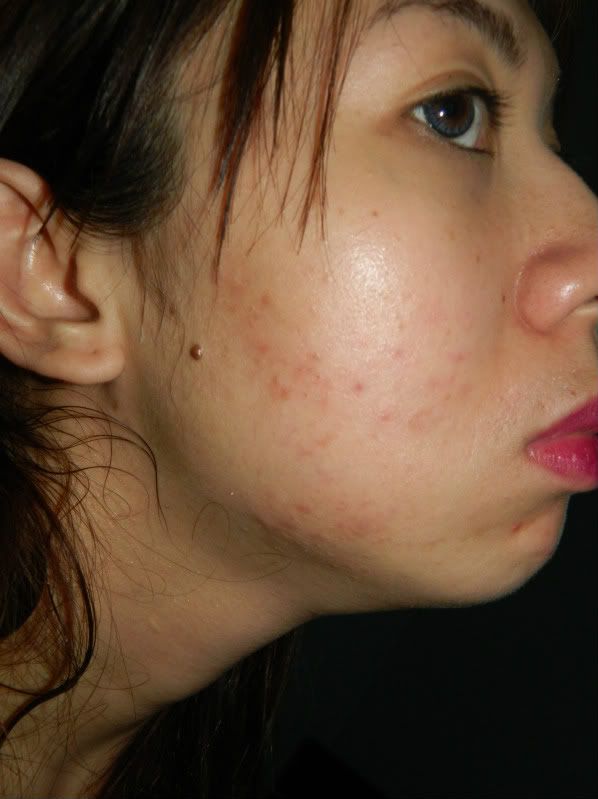 and on my jawline..my skin also became more OILIER,and my face flushes easily..
i gained a few(few? =D) pounds and then right after we went to boracay that same month i had my period twice which is very unlikely...so thats what pushed me to visit my gynecologist...and lo and behold after the Ultrasound and all...i was diagnosed with PCOS...i did actually suspect the same condition but never knew about it that much,ive read articles and stuff to widen my understanding bout what that is....and im still learning a lot of things..
the ultrasound shows 12+ cyst on both of my ovaries...thickened endometrium,retroverted uterus and things that i dont really understand..
she gave me:
Diane35 OCP to regulate my cycle
METFORMIN-an anti diabetic drug-because pcos also i guess has a high chance of being diabetic.
*Because polycystic ovarian syndrome has an insulin resistance component (too much insulin required to store blood sugar), a drug called metformin (Glucophage) is becoming a routine treatment. Approved as an anti-diabetic drug, metformin acts by making insulin more efficient, thus allowing less insulin to perform the same amount of metabolic work.
i visited a dermatologist after and she gave me an
ointment for my dermatitis(back),doxycycline(antibiotics),and DUAC and said to be back for like 2 weeks..but its doing nothing good to be honest.
To kinda put it in my own explanation what it is..
POLYCYSTIC OVARIAN SYNDROME or in layman's term pcos or hormonal imbalance is a condition in where women will find it quite difficult to diagnose since the symptoms arent life threatening at all its just that were used to having it or seeing it so we often thought maybe i did something different or wrong.they said that i have a problem on my endocrine thats causing my hormone to go berserk,most gals who have this also has difficulty on getting pregnant
this is what i have:
SUDDEN Weight Gain-gained weight in just 3days,its because of increase cravings due to hormones
ACNE BREAKOUTS-never had any problem with this for the past 23 years of my life and then BOOM!here they are...
UNUSUAL CYCLE-you might ve missed a period or something like that or like me had mine twice in a month which never happened before..
HIRSUTISM -hair suddenly grows in place you dont want them to be.
FATIGUE-i feel tired almost everyday even when i had a decent sleep,
MOOD CHANGES-cranky mom cranky wife..Just plain Cranky!
INSOMNIA-cant sleep most of the time even if my eyes are soo darn tired.
so here is how my skin looks now....just a comparison of how it started.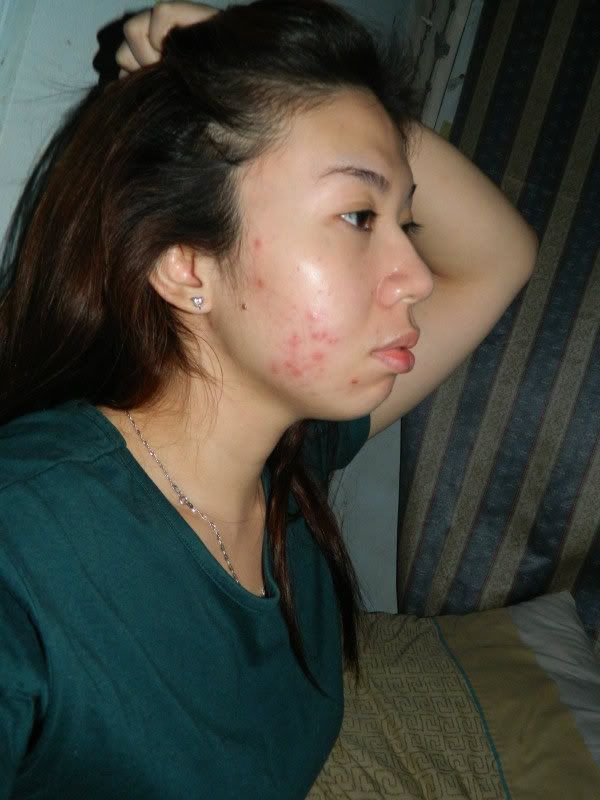 before and after..i know my skins not doing good...its getting worse..wait till you see my next post how it looks now..in 3D! lol i mean now now.this photo was a week old..
right cheek taken first week of may,i guess this was my healing stage...
and this just last week...it looks worst in person...
i got sad when i heard that if i want to get pregnant it wont be as easy as before...you see i was diagnosed to have this right after a few weeks of me and Mr. R decided that we want to try to conceive hoping to have a baby girl...but i guess..that's not gonna be the case for now..i needed to work alongside my OB-GYNE to fix and prepare myself for that since she mentioned that im prone to Miscarriage,
they say:
long-term health consequences of polycystic ovarian syndrome may include but not be limited to:
Cardiovascular disease.

Diabetes

Pregnancy-associated disorders.

Cancers.

Seizure disorders.
here are some links bout PCOS
http://en.wikipedia.org/wiki/Polycystic_ovary_syndrome
http://www.ovarian-cysts-pcos.com/pcos.html
so for now i bid you guys good health and godbless have a lovely weekends,ill try to write my journey here,if you have any question just feel free to leave me a comment.