Good day ladies..its pouring outside,i think it never stopped raining till last night,guess me and lil r will have to cancel our bonding mall time.Anyway,its August 2nd and i think its not that late to post my Monthly Faves..
1.OPI nail polish in Ti-Tan your Toga-this is from their greek collection,its a beige-y ashy/gray-ish shade that brighten up my nails.
2.Neutrogena Healthy Defense Daily Moisturizer SPF 30(tinted)-my skins not behaving quite well this past weeks,so to give my skin a slight color i use tinted moisturizers good thing about this one is that it feels so light and it moisturizes my skin really well
3.Nivea Creme-a must for me when im in the office..i use this as my hand moisturizer keeps it soft despite the super cool environment.
4.Melissa Loverbots -im more of a flat shoes lover but,this shoes are very comfy,im beginning to love melissa shoes,their jelly shoes that is..i find them cute and comfy =D
5,Nivea Express hydration Body Lotion-Ive mentioned on my previous post that i now use body lotions more than the usual, i want to save my skin from breaking down due to dryness,this lotions really moisturizes my skin plus it sinks into my skin right before i put on my pants,so no icky feeling.
6.Ellana lip and cheek tint-i use this everyday and im on my 3rd bottle.this is just my right kind of lip and cheek tint plus its very affordable and locally available.
7.My self concoction (lip hybrids)

-Stays on my lips,very pigmented and minty! will make a video post on this one.*wink*

8.Channel Mat Lumiere Powder Foundation-im still searching for my Neutrogena UV compact ,but this have been on my kit to save me from meltdown,i really down use it that much just for touch ups.(im also lemming for the Maybelline dream matte pressed powder)
9.Channel Hydrabase in Wild Tulip-when i dont have anything on me,i usually go for this lipstick since its rosy plum-ish shade gives me this made up look.down side is the glitters and that its on the hydrabase formula.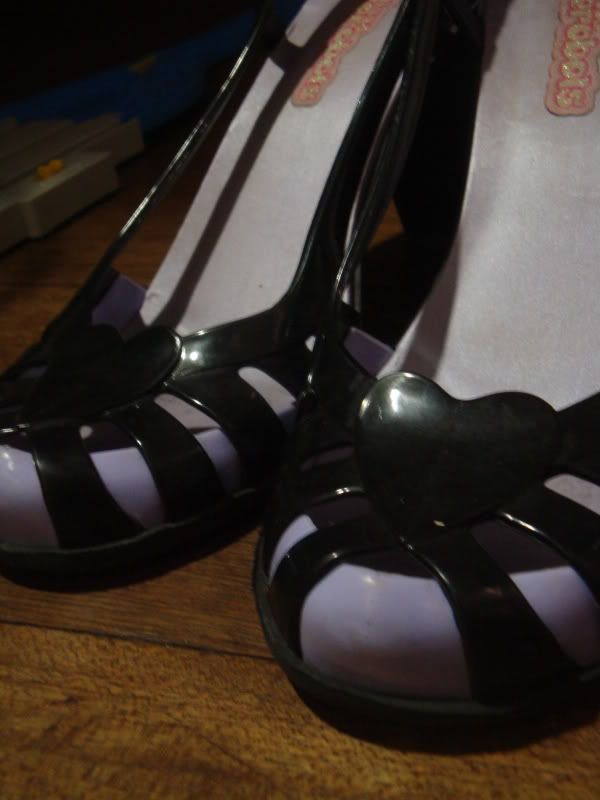 Close up of the Shoes...will soon make my fashion hauls for last week.for a change.
thanks for stopping by gals have a great week ahead. hugs