Hi ladies,wasnt able to post any HOW TO's for like a month or so,that is why im very excited to make a new one last day..its not those high fashioned eye makeup looks ,this is just something that we can all wear on a regular /office or special days..NEUTRALS!
1.Eye primer ,set it with a soft beige eyebase(extend it up to the browbones) and any light brown eyeshadows

2.A darker eyeshadow(MAC texture) on the outer part of the eye blending towards the outer part of the eyesocket.

3.a clean brush to blend the rest inwards.

4.with a light hand line the eyes with a soft brown liner
5.smudge the outer part upwards

6.with any black eyeshadow lightly define the outer area to shape.(depends on how strong you want your look to be)

7.Line your upper and lower lashes with a black liner

8.use the same base on your lower lashes and seal it with the same brown eyeshadow(smudge it)
Appy your mascara and line your brows to finish the LOOK!
finished look..applied mascara on my lower lashes as well.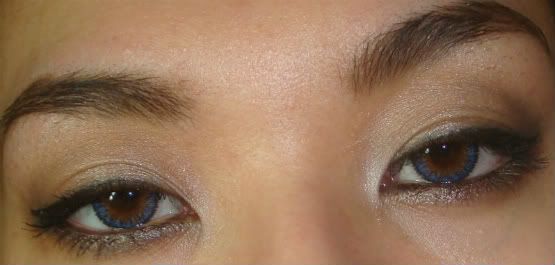 noticed how my eyes looks more lifted.the magic of liner and mascara,great combo if you want to somehow give your eyes a little bit extra.
since this is an everyday makeup look,i applied sheer face makeups,if you want to intensify the look you may use deep shades of blush and lipsticks.=D
Products used:


EYES:
Elf Butterscoth

UDPP sin

MAC sketch and a little folie

LA color mettalic eyeshadow(brown eyeshade)

Barenaturals from loreal(liner)

Maybelline liner

Maybelline Cat eyes Mascara

Clinique high impact mascara(lower lashes)
FACE:
Blush Palette From Elianto

Bobbi Brown Shimmer Brick

Shiseido perfect smoothing compact.