Good day ladies,recently i know by now you all mightve noticed that i dont update my site as often as i used to,as much as i want to,i cant write and make a decent one when i am deprived of sleep,my thoughts are not that intact,all i can think about was...hmm...blank..space...bed....space...little rai...comma...ZzzZ.So to catch up i just want to share my makeup ventures on my absence..
Pool party...Photographed by Orlyn Guion Jr..
Bobbi brown shimmerbrick a must have for those who loves a subtle cheek glow,you may also use this as an eyeshadow.convenient eigh?
A simple Wedding Makeup....eyeshape..Hooded slash monolid,one of her issue is that she have a thin and short lashes.adding some falsies will give this look more oomph though she's not used to having them on,but she wants to have a fuller lashes,whats the next best thing ???
TIP:
if youre not used to applying falsies,practice practice practice,you may cut them in half if youre having trouble measuring them..3/4 falsies gives that cat eyes and lifted effect if applied correctly.plus for me their easier to apply hehe.

if you re really not into false eyelashes try TIGHTLINING,it will give a fuller effect,dont forget to use the right mascara as well for those who has thin lashes try Volumizing mascaras,short lashes Lengthening Mascaras.

Lining your upper lashline as close as possible to your lashes.
Movie Skit Makeup...most of my clients as well as my friends question is all about foundation matching..i myself still hasnt found the right foundation to match my everything hehe(skintype,shade,etc)
But i always tell them to always look if it matches you on a natural lighting,dont ever rely on the makeup counters lighting since they have different light contrast,thus distorting the actual shade of the foundation.
Plus most of us swatch the shade on our jawline or neck area.one reason might be because our face is often lighter/darker than our neck.its really up to you,if you want to match your face shade to your neck or maintain their natural tones.
But do not buy foundation that are way too light than your face if its already lighter than your neck or even if its not,.I recently saw one on my workplace,i know its rude to stare but i really want to tell her how obvious it is,she has medium skintone(nc45) its just that i dont know her that well and i think im not in the right shoes to be the one to tell her that..her face looks gray-ish..
my super reliable mini makeup case
wedding gig at Manila Hotel-
i really love her smile..see the difference of the shade of her face prior to applying foundation...i used a small amount of kryolan as a finishing powder to lighten up/brighten up her look and to adjust the foundation shade.

early morning gig..no sleep.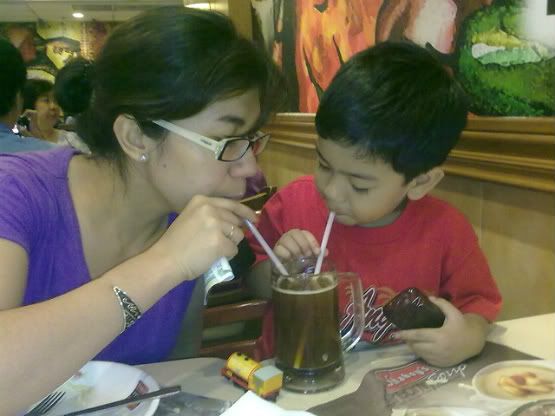 and the most important part of my update...even if im famished tired and such,i always make sure to spend a quality time with my family...
Goofing off with Rai..Lol..
So thats it ...work day tomorrow need to sleep have a blessed day.