good day ladies,so ive been using this product ever since i got it a few months back,so here goes my review on Bobbi Brown SPF 25 tinted balm,
A lightweight foundation alternative for dry, dehydrated skin, this formula is ultra-rich, and blends easily, giving skin a dewy look with light coverage. SPF
25 helps protect skin against damaging UVA/B rays. Dermatologist tested
what it does:
it has anti aging benefits and blends easily,giving skin a dwwy look.spf25 helps protect skin against damaging UVA and UVB rays that is ideal for dry and very dry skin
it has 8 different shades from alabaster extra light tint light tint light to medium tint,medium tint,medium to dark tint,dark tint, lastly deep tint.
see how creamy it looks,the texture for me is in between moose and creams.See those luminous flash back from the camera,looking from afar i think you may definitely say that its moisturizing...so the fact that it looks oily made me think twice but i finally gave in...
Oh and the scent...well..lets just say that im not a fan..smells a bit like an old mint herb,that might be too strong for some..plus the fact that it stays on even after application,though it fades after sometime.
mind you this is not something that with oily skin such as me will like,i just love how dewy my skin looks and how light it feels,i also dont need to apply that much for it to work,so im not recommending this for those with combination to oily skin,i suggest for you to visit your nearest Bobbi Brown counter and try it on yourself first .
what i do is i get a spatula to dispense the product out of the pot and use my hands to apply it,the heat on my palms makes it easier for me to blend the product.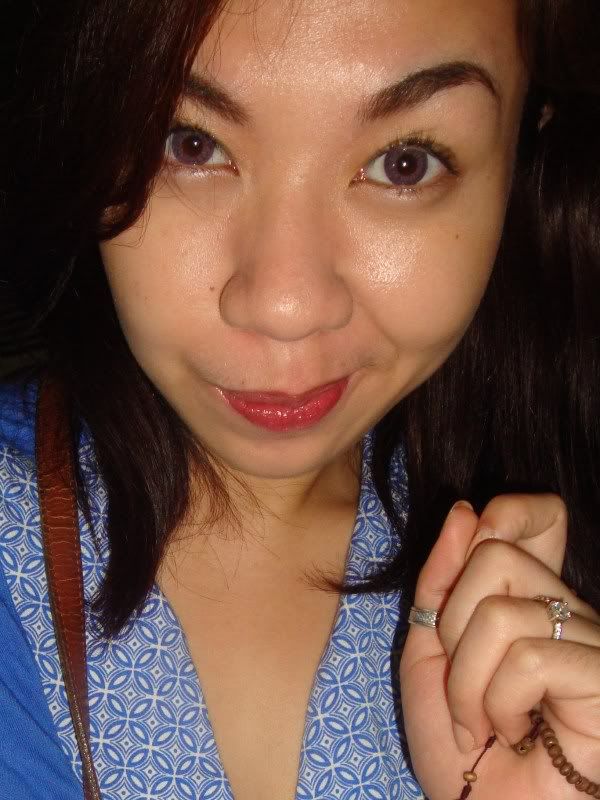 bobbi brown after a 10-20 minutes.all settled.
so for me this is not a must have for oily skinned gals but for those with dry skin i do recommend this product,it might look and feel too moisturizing for some but i think that is why they call it Moisturizing Balm,i usually top it off with a very light powder if i want to counter its dewy finish..
PROS:
Light weight

A little goes a long way

Very Moisturizing

light coverage

8 different shades

nice though bulky packaging

has spf 25

great for dry skinned gals
CONS:
so there you go ladies and gents,thanks again for visiting im glad that im able to update my site atleast once a week.i got to visit and read other blogs as well on my free day.hehe.will soon post a look that ive made while playing with my stash,thanks for visiting ladies have a very nice day ahead and god bless..
HUGS!