hello ladies!its been a while!.i woke up early just to make a post,i dont have a spare time to browse anything at all,when the clock strikes 8(am)..and at night right after work,well i spend a quality time with the little one.And yes the reason of my absence is that i now have a Job,though were still training,its eating most of the time that i have for my friends and such =D..but no worries ill try to blog when i have the chance..i cant help not to anyways..hehe.so enough rambling heres a review for you guys.=D
A single-shade, pressed powder blush from shu uemura. What it does: Glow On enhances the natural glow of the cheeks. What else you need to know: Revitalize your look this Spring with shu uemura's limited edition Rebirth collection. Inspired by the purity, energy, and innocence of the spring season, Mr. Uemura designed the 126th Mode Makeup collection to celebrate its 40th anniversary using a combination of soft and vivid hues embellished with a unique and graceful leaf motif to communicate the revitalization of nature occurring at this time of year.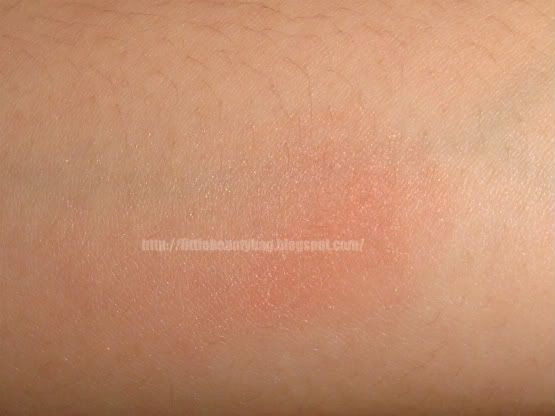 here is the actual product swatch on my nc25 skin..its not as pink as i thought,but on the good side,i love how it looks on my skin.the finish is satin-y as well but whenever i want to tone down or cancel the "shimmer" i just use my kryolan anti shine.
tranquil pink on top of a powder foundation,the lighting on this photo is much better,no flash.
with flash....the shade for me isnt as pink as when i pictured the word "tranquil pink" hehe.it has a hint of peachy hue which i obviously love,since they look more natural on me than pinks,though i still love pink blushes im now beginning to appreciate the shades of apricots,peach,corals as well
tranquil pink on top of revlon colorstay liquid foundation.
tranquil pink on top of a BB cream,i used my natural bristled brush on this look to blend out the blush,and topped it with a mattifying powder to cancel the shine out.
fully made look with tranquil pink as a blush
pigment wise it doesnt show up on me quite much,i have to do a couple of swipes or more depending on what foundation i have.but that is just the thing that i noticed which i didnt like,aside from that i love how it compliments my skintone,and how soft and muted it looks on my cheeks.