One of my must haves is Powder Foundations..My Oily Skin prefers it more than the Liquid ones,its just that sometimes it lacks the staying power that BB creams or liquid foundations sealed with powder have.Not until i found my Neutrogena UV compact...ive hit so many neutrogena Uv compact pan,and now my last Neutrogena compact have hit the pan as well,unfortunately the SA told me that theyve discontinued that product already...So goodbye Neutrogena will keep on looking for you though..as for now ill say Hello to Chanel..
Price:3450.00 Php./Whereabouts-Shangri-la Rustans.
A powdery compact texture for a velvety, perfect complexion. Shiny areas are mattified and imperfections are concealed.
A flawless complexion for 12 hours.
The powdery formula of MAT LUMIÈRE blends delicately into the skin. Micronized talc and spherical and lamellar powders ensure a matte, luminous finish. Shiny areas are mattified and the complexion looks even.Imperfections are instantly concealed and the radiance of the face is revealed.Silicone polymers in the formula optimize the hold of foundation. The complexion looks flawless from morning until evening: even, velvety and embellished.
Apply to entire face with the sponge used dry for a natural semi-matte finish or dampened for a semi-matte velvety finish with longer hold. Ideal for touch-ups during the day.Practical and easy to refill.
Same as their Chanel Extreme and Vita its refillable..unlike my Shiseido i love its clicking lock for the refills.
side by side comparison with Mac Studio Fix powder foundation NC25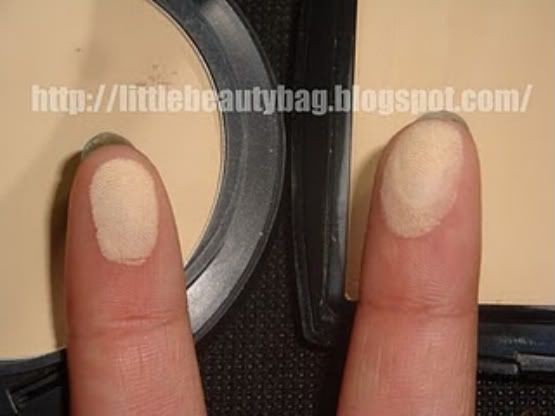 Swatch.clearly mac gives off a better coverage
See how it matches my skin,as if im wearing nothing.
It did not conceal some of my red spots but,honestly i like it that way..i still want my skins natural glow to be seen underneath the foundation,another thing is that it also managed to brighten up and somehow hide some flaws.
Chanels Foundation is a luxurious product to own..You will definitely feel it the time you purchased it..or after you see the bill from your Credit Card.
Final Say:This is a great foundation to have,creamy texture,nice finish,great packaging..ill stick with this one for the mean time..and if the Neutrogena UV compact wont hit the market again,i might stay with chanel,atleast ill only have to purchase their refill,or a much cheaper one.Ill keep on looking and will update you guys on my powder foundation ventures.=D
Rating
Packaging:5/5
Coverage:3.5/5
Price:2/5
Staying power/Oil Control:3/5
Finish:4/5
OVERALL rating:4/5
Thanks for visiting guys.
Godbless
XOXO