i know this may sound too weird for some of you,nevertheless i still want to share a hobby that im currently enjoying...and its DANCE REVOLUTION...yeah i know that youve heard of it,its a good workout plus its super fun..i dont mind if people were to watch me while im missing all those arrows.haha.
Anyway enough about that here is a look that i seem to really like a lot..i mean how i wish,that i can wear them out,the shades make me smile by just looking at them.
Mufe aqua color in 21 mixed with white eyeliner

L.A colors metallic eyeshadows soiree

88 matte palette(light blues and purple)

Maybelline felt tip pen liner

Lancome Definicils Mascara

TFS brow powder(brown)

Etude House white pencil liner

Maybelline 2 in 1 studio liner in Blue

Mineral Eyeshadow (aqua blue shade)

Falsies from Landmark
More eyeshots:(different angles)
i added a shimmery eyeshadow that has the same hue as my base,its not pigmented but it gives a very nice shine,much like mufe diamond powders.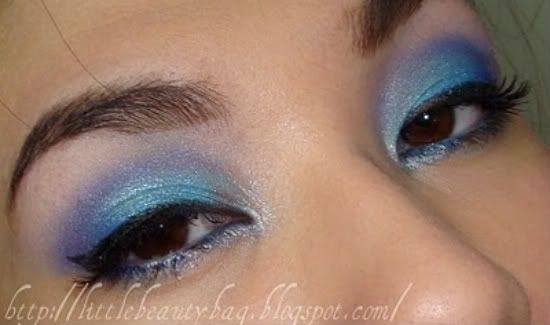 as always a small winged liner gives the look that extra oomph..and since i want to give my eyes a lifting look i slightly angled the outer part of my falsies on the direction of my winged liner.(3/4 lashes)
Blended a blue eyeliner from Maybelline(waterline)with the silver liner from etude,mac paintpot bare study and a black liner on my lower lashine..
Maybelline Mineral liquid foundation

Forever21 love and beauty blush(makeup set)

Meow Cosmetics Mineral Makeup

Wet and Wild Lip liner
I dyed my hair lighter,sadly i cannot use my extensions outside,since they obviously looked different under natural lighting
Hope you like this look =D
Tip:Great eye looks can be achieved by proper blending..Blend those shades until you cant see any edgy lines where the shadows meet.